Two new abortion pill lawsuits could have major federal consequences
2023-03-16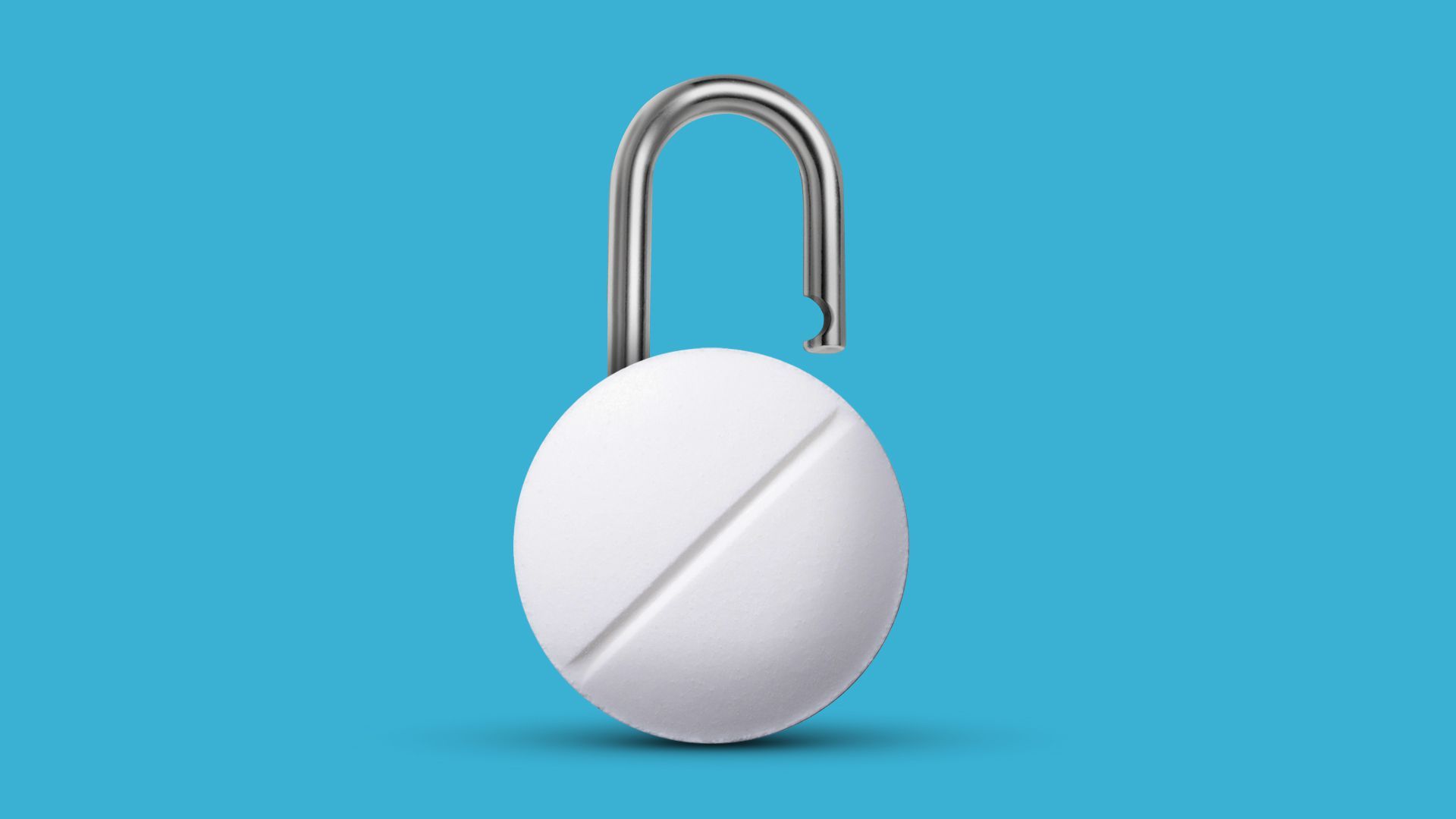 Illustration: Natalie Peeples/Axios
A pair of lawsuits challenging abortion pill restrictions in North Carolina and West Virginia look to settle the question on whether states can regulate and restrict drugs that have been approved by the FDA.
The big picture: Soon after the Supreme Court overturned Roe v. Wade, the Justice Department released guidance stating that states cannot ban mifepristone, which is used in medication abortions. But that hasn't stopped red states from trying, and these two new lawsuits are now setting the stage for a fight over federal preemption.
Abortion pills are considered safe and effective by major medical groups, including the American Medical Association and the American College of Obstetricians and Gynecologists.
Details: The North Carolina lawsuit challenges state curbs including a requirement the pills be dispensed in person by a physician in a certified surgical facility after a required counseling session and a 72-hour waiting period.
The lawsuit argues that a state "may not impose additional controls — including restrictions that FDA has specifically rejected — that upset the carefully balanced regulatory scheme established by federal law," specifically referring to the Federal Food, Drug and Cosmetic Act.
The challenge was filed by Amy Bryant, a North Carolina physician, who said in a press release that abortion pills restrictions are "not supported by medicine or science."
In West Virginia, GenBioPro — the maker of generic mifepristone — filed a lawsuit arguing that the state's abortion ban "constricted the market for mifepristone statewide," and has negatively impacted state residents' access to the drug, as well as the company's "ability to conduct business" in the state.
West Virginia's abortion ban violates the U.S. Constitution's Supremacy Clause and the Commerce Clause, the lawsuit alleges.
The state has restrictions on abortion drugs, specifically prohibiting the use of telemedicine and requiring a waiting period and counseling before they can be administered.
"We are prepared to defend West Virginia's new abortion law to the fullest. While it may not sit well with manufacturers of abortion drugs, the U.S. Supreme Court has made it clear that regulating abortion is a state issue," West Virginia Attorney General Patrick Morrisey said in a statement.
What we're watching: These cases could potentially set a precedent that "FDA policy preempts state law," Greer Donley, an associate professor of law at the University of Pittsburgh School of Law, told Axios.
If GenBioPro prevails in West Virginia, it would provide a "loophole" in abortion bans because states would be required to "allow the distribution, sale and use of medication abortion, according to the FDA label," Donley added.

A state would still be able to outlaw procedural abortions and medication abortions after 10 weeks, but patients would still be able to access them during their first trimester of pregnancy.

Since the North Carolina lawsuit does not challenge a specific abortion ban, but focuses on mifepristone restrictions, an outcome for the plaintiff would have a "more muted effect" and impact states that don't have bans but have restrictions around abortion pills, Donley said.

By the numbers: At least 18 states have laws in place that that prohibit the use of telemedicine and require that the prescribing clinician be present when the pill is administered, according to the Guttmacher Institute.

Between the lines: The FDA first approved mifepristone, which is taken alongside misoprostol during the first 10 weeks of pregnancy, for abortion use in 2000. Over the years, the FDA has loosened restrictions around the drug, including most recently allowing retail pharmacies to provide them.

The agency in 2021 made pandemic-era guidance that allowed people to access abortion pills via telemedicine permanent.
While abortion bans can impact the pills' availability in a state, they can still be accessed online and mailed to patients, effectively providing a way to circumvent restrictions.

What's also happening: The FDA's approval of mifepristone is currently being challenged by the conservative group Alliance Defending Freedom. The judge presiding the case, a Trump appointee, could decide as early as next month whether to temporarily block mifepristone's approval.

Abortion rights advocates say that if the judge grants a temporary injunction on the approval, it would result in a nationwide ban.

Go deeper: FDA adds a major new twist to the abortion pill fight

Source: Read Full Article