Omit Digital Rectal Exam in Prostate Cancer Surveillance?
2023-02-06
Routine use of MRI during active surveillance of men with prostate cancer allows patients to skip digital rectal examinations and some biopsies, and this approach is best practice, according to an international panel of experts.
Guidelines do not yet reflect this tack, but some centers already use it.
"Some people are doing the digital rectal examination [DRE] even though they are getting an MRI," said Caroline M. Moore, MD, professor of urology at University College London, who led the review. "I've had doctors say that the patient expects that."
The problem is that DRE is not especially accurate, she said. "If it was useful but mildly uncomfortable, then fine," Moore told Medscape Medical News. "But it's actually not very useful."
So the panel of experts agreed that DRE is not needed "if you are doing a much more accurate test, the MRI scan, instead," Moore said.
DREs cost little — a pair of latex gloves, a squirt of lubricant, and tissues for cleaning up — and occasionally can help detect disease but may have limited reliability. "Given the lack of cost and side effects," the exam "should still be considered," researchers have said.
Meanwhile, prostate MRI is more reliable and useful but more expensive. One study found that the median cost of a prostate MRI was $4400. Another found that insurance coverage for prostate MRI can vary widely and depend on overly restrictive criteria.
Movember, a men's health charity that funds prostate cancer research, commissioned the new report to gauge expert consensus on best practice and research priorities in active surveillance. The report was published online January 27 in European Urology Oncology.
Panelists addressed nearly 300 questions. They agreed that clinical factors and patient preferences should inform whether a patient is a candidate for active surveillance. Gleason grade and MRI findings were deemed the most important criteria for prompting escalation to active treatment, followed by changes in the density and level of prostate-specific antigen (PSA). MRI and the Gleason score indicate the volume of a tumor and how aggressive the cancer may be.
For men on active surveillance, a change in PSA kinetics, PSA density, or the findings on DRE should lead to MRI and possibly a biopsy before any discussion about moving to treatment, the panelists agreed.
Variations in Practice
Guidelines call for clinical staging of prostate cancer by DRE, the report notes. But "it is common in some centers for MRI to be used for staging, with DRE not done where MRI is used," the authors wrote. "We know that there is significant variation in adherence to different protocols."
Not all urologists intend to forgo performing routine rectal exams, however, because they can identify lesions that otherwise might be missed.
The report was authored by a panel of 27 healthcare and research professionals and a group of 12 men who are on active surveillance or have had treatment for prostate cancer. Participants were from Europe, Australia, and North America.
When PSA levels and MRI are stable, physicians may be able to avoid performing further prostate biopsies, the experts agreed. Biopsies entail risk for infection.
PSA should be monitored every 3-6 months, whereas the timing of MRI may be more open-ended, according to the report. MRI should be done routinely, but less frequently than annually, the authors said.
Routine DRE is not necessary, although the exam may be done for reasons other than assessing progression of prostate cancer. "There was strong agreement that DRE is unnecessary if multiparametric MRI or other routine imaging (eg, transrectal ultrasonography) is being carried out," they wrote.
Men who are on active surveillance are more likely to die from cardiovascular disease than from prostate cancer, so patients should be counseled about lifestyle modifications that may be beneficial, such as getting enough physical activity, eating a vegan diet, and relaxing.
Future research should focus on developing a framework for active surveillance that is personalized, dynamic, and allows for "less testing in men at the lowest risk of progression," Moore and her co-authors wrote.
"This represents a fundamental break with guideline-based practice in active surveillance, not just in terms of practice, but in terms of the philosophy of care as well," they wrote. "As such, this priority calls for a major program of research, and Movember has set out a funding call to address this."
The panelists had expertise in areas like urology, oncology, radiology, pathology, translational science, and general practice, as well as population health, psycho-oncology, nursing, clinical trials, and health services research.
A different panel of experts may have reached different conclusions, the group acknowledged. "However a significant effort was made to accurately reflect diverse international thinking and practice," they noted.
Trying to Avoid Unnecessary Treatment
Active surveillance has been recommended for low- and some intermediate-risk prostate cancer because the approach may help patients delay or avoid potentially unnecessary treatments that could cause side effects such as incontinence or erectile dysfunction.
In practice, approaches to detecting prostate cancer and active surveillance vary dramatically between countries and practice settings, according to the report.
These differences became more apparent to Moore when working on the international consensus panel and other collaborative projects.
In the United States, PSA blood tests are more common than in Europe and MRI is less common, which means American doctors detect more low-risk cancer, Moore said. Doctors in the United Kingdom "make an effort not to biopsy men with a negative MRI," she told Medscape.
Howard Wolinsky, a patient advocate in Chicago who writes about active surveillance on the Substack newsletter The Active Surveillor , was a co-author of the report.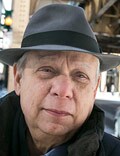 Howard Wolinsky
"If adopted, these consensus recommendations could dramatically change and modernize community-based care of low-risk prostate cancer in this country and spare more men from unnecessary biopsies and avoidable aggressive treatment with serious side effects," Wolinsky told Medscape Medical News.
The report also may signal that it's time to bid farewell to the DRE, or the "finger wave," for active surveillance, he wrote in his newsletter.
"Digital rectal exams, the subject of countless jokes, patient complaints and embarrassment, have long been a standard feature of prostate exams in urology offices in the U.S.," he wrote.
But they won't disappear entirely. Leonard Marks, MD, a urologist at University of California, Los Angeles, told The Active Surveillor that he thinks DRE should continue "not only for detection of the occasional prostate abnormality on palpation but also for detection of rectal lesions" and because "patients expect and appreciate the thoroughness of the exam."
DRE can be used to investigate a range of disease processes such as anal and rectal cancers, hemorrhoids, anal condyloma, constipation, and inflammatory bowel disease.
Some patients experience fear or shame surrounding the DRE. "This is usually due to imagination, beliefs, and fantasies that lead the men to envision the DRE as something much more awkward than it is," researchers in Italy reported last year.
Physical discomfort during the exam may be another concern. One group found that about 60% of patients reported at least moderately uncomfortable pain during DRE, and about 20% had urinary or bowel urgency. The degree of discomfort did not affect patients' intention to have another exam in the future, however.
DRE still has a place in practice, Moore said. If she is concerned about an infection and wants to see if the prostate is tender as a possible explanation for a patient's symptoms or a high PSA level, the exam may be useful. It also could be used to check for an obvious cancer in a patient whose MRI might be delayed due to availability, affordability, or other reasons, she said.
Active surveillance can seem neglected as a research topic, and the consensus report helps establish "what is commonly agreed is a good thing, even if it's not yet embedded in the guidelines," Moore said.
On the one hand, active surveillance is perhaps not the most interesting topic for surgeons. On the other hand, she said, "it's really important that we get it right."
The consensus report was supported by Movember. Moore receives grant funding from Movember, Prostate Cancer UK, Cancer Research UK, and the Medical Research Council, and disclosed funding and fees from pharmaceutical and medical device companies. Wolinsky is an advisory board member for the Answer Cancer (AnCan) Foundation and co-founder of Active Surveillance Patients International. He also edits The Active Surveillor and writes for Medscape.
Eur Urol Oncol. Published online January 27, 2023. Full text
For more news, follow Medscape on Facebook, Twitter, Instagram, and YouTube
Source: Read Full Article