Not Always Implemented or Enforced: Harassment Policies at Work
2023-02-16
Many companies, government agencies, and organizations have implemented policies and procedures to shield employees from sexual and other forms of harassment. The US Department of Health and Human Services and the American Medical Association are just two examples.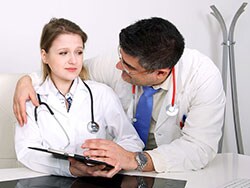 Employers can tap a rich lode of guidance and resources to craft these anti-harassment policies. The National Institutes of Health's (NIH's) resource page is a good site for hospitals to check out.
But how effective have official policies proved in deterring harassment in medical workplaces? After all, in a study by the American Association of Medical Colleges, 34% of female faculty said they had experienced sexual harassment irrespective of such policies. And in a recent Medscape survey of more than 3000 physicians, 27% reported that they had either witnessed or been subjected to sexual harassment or misconduct at work during the past 4 years.
When Policies Are Absent or Unenforced
"Not all institutions have anti-harassment rules and policies, and even when they exist, they're not always enforced," says Theresa Rohr-Kirchgraber, MD, president of the American Medical Women's Association (AMWA) and professor of medicine at the Medical College of Georgia.
She believes employer rules and policies generally are helpful in establishing who fields harassment complaints and in creating at least some accountability.
On the other hand, policies that don't recognize anonymous complaints effectively discourage harassment victims from coming forward, Rohr-Kirchgraber argues. Even those policies that do allow anonymous complaints may have limitations.
For example, the NIH policy on reporting harassment acknowledges that "officials must follow up on all allegations of harassment and cannot guarantee that your identity will not become apparent during the process. Please note that if you remain anonymous, key details about the allegation or concern [may] be omitted. This will limit the NIH's ability to conduct an inquiry and take corrective action as warranted."
Risks in Pressing a Harassment Case
A complainant whose name becomes public risks getting a reputation as a problem employee or suffering workplace retaliation, according to Rohr-Kirchgraber. She recalls a colleague who was on a clinical education track until she lodged a harassment complaint. Abruptly, she was told she was needed on a service with fewer teaching opportunities.
With such risks in mind, respondents to the Medscape survey advised employees in medical workplaces to familiarize themselves with policies and procedures before pressing a case.
"Document everything," an ophthalmologist urged, including time, place, offender, and witnesses. Present that information to your supervisor, and if nothing is done, hire a lawyer, a gastroenterologist suggested.
But taking the situation to the Equal Employment Opportunity Commission can be complicated, Roberta Gebhard, DO, past AMWA president and founder of its Gender Equity Task Force, told Medscape.
"They talk to the employer and get the employer's side of the story and eventually render a decision about whether you have a case you can put through and file a lawsuit," she said. "I don't know of any other situation in which you need 'permission' to file a lawsuit."
Nevertheless, an attorney can be helpful with cases, and when someone is terminated, a lawyer can possibly have it overturned or converted to a resignation, Gebhard said.
"And always have a lawyer review your contract before you take the job," she advised. The lawyer might adjust the contract's verbiage in ways that can protect one down the road in the event of a potential termination. "It's money very well spent."
More Education Needed
Rohr-Kirchgraber said that protection against harassment goes beyond the employer's policies and procedures. Building an overall consciousness of what harassment is should begin with employee onboarding, she said.
"The harasser may not even recognize that what they're doing or saying is a form of harassment, so we need better education," Rohr-Kirchgraber emphasized.
Batya Swift Yasgur, MA, LSW is a freelance writer with a counseling practice in Teaneck, NJ. She is a regular contributor to numerous medical publications, including Medscape and WebMD, and is the author of several consumer-oriented health books as well as Behind the Burqa: Our Lives in Afghanistan and How We Escaped to Freedom (the memoir of two brave Afghan sisters who told her their story).
For more news, follow Medscape on Facebook, Twitter, Instagram, and YouTube.
Source: Read Full Article