Can a Practice Makeover Improve Patient Care? Some Say Yes
2022-06-14
Busy physicians are always looking for ways to provide better, more efficient care and the layout of their practice can facilitate that, say healthcare design experts.
Architect firms that design medical practices are borrowing concepts from unexpected sources — the auto industry and Disney.
Kevin Ferentz, MD, the lead physician for family medicine at the Greater Baltimore Medical Center in Owings Mills, Maryland, was already a fan of Toyota's Lean Management, designed to make workflow processes more efficient to save time and money. He saw the benefit of using those principles in the design of his medical practice.
"The design has had a huge impact on the way we practice medicine. There's no question that we get patients in and out faster and we finish up 45 minutes earlier. Doctors and patients are more satisfied," says Ferentz.
Robyn Dubick, a principal at CRGA Design in Baltimore, who is certified in healthcare interior design and Lean principles, designed the first project (Family Care Associates) at GBMC, which became a template for other primary care practices in the hospital system, including Ferentz's office space.
Lean principles aim to improve the patient's experience and outcomes by increasing efficiency and reducing waste, says Dubick.
Doctors Are More Satisfied
Ferentz says the design saves him time because his medical assistant is always nearby – either in the exam room or in an adjoining room 5 feet away where they share a workspace, which makes it much easier to communicate throughout the day.
Another time saver is that the exam rooms have identical layouts and consistent places for supplies and equipment.
Doctors can also save time in their day by using the adjoining room to return daily phone calls and call-in prescriptions throughout their day rather than waiting until after seeing all their patients, says Dubick.
Other medical centers that were redesigned based on Lean principles have also seen positive results. A dramatic example is the transformation of Virginia Mason Medical Center in Seattle from a failing hospital into a successful one after its management team toured Toyota factories and adopted its Lean production system.
Since 2008, the hospital has increased its profit margins and decreased deaths and medication errors. Other reported benefits of Lean management are an 85% reduction in how long patients wait for a lab result, a 93% increase in productivity, and a $1 million reduction in inventory costs.
But not everyone is a fan of Lean design. Some architects and physicians have found that certain elements don't work well in practice, such as eliminating all windows or offices.
Ferentz misses having a private office. "That has been a source of contention with the organization. As the lead physician, I believe having some administrative space for the leadership would be valuable, whether it's to counsel another doctor or put a filing cabinet in."
Benefits of Disney Inspired Design
Some healthcare architecture firms also use the "on/off stage" concept that was inspired by Disney theme parks. Disney cast members are "onstage" whenever they are in the public areas of the park and in front of guests and "offstage" when they are behind the scenes and out of their guests' sight.
Dubick applies the "on/off stage" concept to medical practices so that the areas patients see are their hallway and exam/treatment rooms, which they enter from opposite sides from the staff along a U-shaped corridor. Physicians and staff use hallways, meeting rooms, and collaborative spaces that are not visible to the public.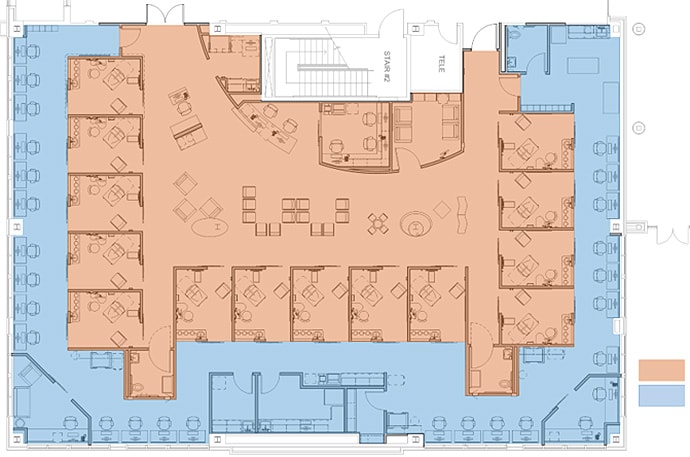 The "on/off stage" design. The orange portion represents the on-stage patient space and the blue portion represents the off-stage staff space.
Scott Eden, MD, the lead physician at Chesapeake Family Medicine in Anne Arundel County, Maryland, says physicians preferred the on/off stage design because it was more efficient and provided more privacy than the traditional long hallways leading to exam rooms where doctors and patients comingled.
"Most striking was that the design helped us with HIPAA privacy issues. Before, patients could hear our phone discussions about other patients as they passed by or stood near us," says Eden. "But that problem ended with the on/off stage design," he adds.
Cons of On/Off Stage
At Chesapeake Family Medicine, doctors work next to their medical assistants in a separate hallway that leads to the exam rooms. Eden says he didn't miss having an office but some doctors complained about the lack of windows depending on where they worked in the hallway. Patients also complained that the waiting area next to the exam rooms had no windows.
Larry Brooks, an architect and president of Practice Flow Solutions in Atlanta, an architecture firm that designs and renovates medical practices, is not a fan of the on/off stage design and says he tries to talk doctors out of it.
"It uses more square footage and complicates communication by having two separate hallways for patients and clinicians. The nurses and doctors in the back may not know which exam rooms their patients are in and nurses often cut through the exam rooms to get from the back to the front. We can achieve a better functioning flow with less space," Brooks says.
He prefers using circulation paths, which he compares to streets in a town — some lanes have a lot of traffic (such as the check-in and check-out areas and medical assistant stations) and other lanes don't (such as the hallway that leads to exam pods on each end that are like a cul-de-sac). He designs the more congested areas to have wide "boulevards" compared to the less congested "two-lane highways," for example.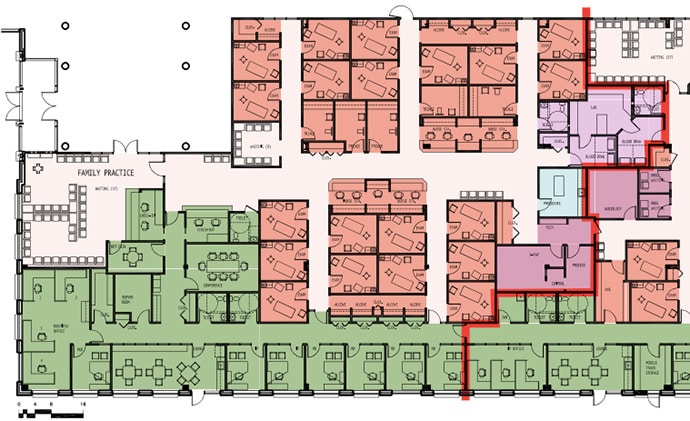 The "circulation paths" design, as created by Atlanta architecture firm Practice Flow Solutions.
Patients and clinicians enter the exam rooms from the same hallway, which cuts down on the square footage and is less confusing for patients who are used to entering and exiting the same way, says Brooks.
If doctors want a private area to take a phone call or talk to other doctors, Brooks creates private alcoves off the exam pods rather than a separate hallway.
"I can't remember the last time I designed a private office," says Brooks. Instead, "the best solution I have found is lining the room's perimeter with — let's say five desks for five doctors — and putting a small conference table in the middle of the room. The doctors can turn their desks around and have a meeting or lunch break."
How COVID, Technology Have Affected Design
COVID's social distancing brought a lot of design changes to the forefront that affected waiting areas, says Dubick.
That's when more practices became interested in adopted Lean principles that minimized wait times for patients and brought them directly to the exam room, she says.
The pandemic also pushed practices to come up with safer ways to check patients in, rather than having them congregate at the reception desk. These included using an online patient portal or a self-service electronic kiosk, says Brooks.
COVID also accelerated the need to check patients out electronically in the exam room, much the way credit cards are handed off to waitresses at restaurants, says Brooks.
Electronic health records have also changed how doctors interact with patients in the exam room. Doctors who use EHRs on their desktops often turn away from patients, which reduces face-time with them, says Brooks.
To remove that barrier, the design may include a mobile cart in the exam room or design an L-shaped counter for doctors to place their computers; it depends on each practice, he says.
What Doctors Should Know about Practice Design
David Zetter, founder and lead consultant of Zetter HealthCare in Mechanicsburg, Pennsylvania, advises clients on the design/renovation process. He recommends these steps to doctors.
Ask yourself: What do you want to accomplish? That will drive the type of vendor you need to talk to and the permits you need, he says. "I have clients who redesigned with just a contractor while others have secured an architect, patient flow experts, and designers."

Use experts in healthcare who understand how medical practices work, what doctors and nurses do, and patient flow. That will help avoid costly mistakes.

Plan far in advance. Many firms have lost staff during the pandemic and may be backed up.

Be patient, especially if you're doing any construction because of supply chain problems. "It took 6 months for one client just to get a new door."
Ferentz appreciated having input into the design process from the beginning. Dubick says, "It should be a team approach with anyone who uses that space, including doctors, nursing staff, technicians and front office staff."
When it comes to costs, it's by the square footage. Dubick estimates the construction cost is $75-150 per square foot. "That is not the full-fledged architecture cost — it excludes design and additional equipment and furniture we buy."
Ferentz says the total cost of expanding the medical practice from 5 exam rooms to 18 is $4.5 million dollars. "We were fortunate to get a donation that covered all the costs."
The average time to complete the project is 12-14 months, says Dubick.
Ferentz is confident there will be a return on investment to his practice's new design because the practice is already booking patients into the fall.
He has no desire to work again in a traditional linear design. "I would be extremely unhappy if I had to return to those long hallways where I am on one end and the medical assistant is on the other end," says Ferentz.
Christine Lehmann, MA, is a senior editor and writer for Medscape Business of Medicine based in the Washington, DC area. She has been published in WebMD News, Psychiatric News, and The Washington Post. Contact Christine at [email protected] or via Twitter @writing_health.
For more news, follow Medscape on Facebook, Twitter, Instagram, YouTube, and LinkedIn
Source: Read Full Article