All aboard Gwyneth's love boat as 'Goop at sea' set to sail
2020-01-11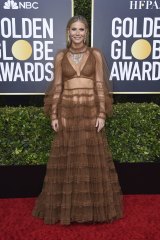 Gwyneth Paltrow, at Monday's Golden Globes, is set to take her lifestyle brand, goop, to the high seas.Credit:Jordan Strauss
Gwyneth Paltrow, the actor-cum-lifestyle entrepreneur who once championed vaginal steaming, is hosting a wellness retreat for her brand, Goop, in a most unlikely environment: a cruise ship.
Paltrow, who stars in cult TV series The Politician, is commandeering the Celebrity Apex, the brand new, 2900-passenger ship in Celebrity Cruises' fleet, for a live-in workshop in August.
"I love being on the water, I love being by the water and I love being in the water," Paltrow said. "And I think, energetically, it's very cleansing to be near the sea or in the sea."
Goop has partnered with Celebrity Cruises for its first at-sea venture, which leaves Barcelona on August 26 and will sail around the Mediterranean until September 6.
The itinerary will feature a one-day experience called Goop at Sea, inspired by the company's In Goop Health wellness summit which have a controversial reputation after a London summit last year led to complaints about the $US5700 ($8295) cost and Paltrow's level of involvement.
"We've had massive success with In Goop Health, our wellness summit that translates Goop's content into a tangible, high-touch experience," Paltrow said in a release. "This partnership with Celebrity Cruises allows us to bring Goop to new audiences and to meet readers where they are."
While the cruise program's exact details are still being worked out, the experience includes seminars and a keynote speech, with Paltrow leading a conversation about her own wellness journey.
Paltrow said she's not sure how much time she will personally spend onboard the Apex since the details are still being finalised.
In addition to the one-day seminar, the Goop-themed cruise will include menus designed by the company's food editor.
Access to Celebrity Cruises' website, passage on the voyage starts at $1898 per person, twin share, for an inside room, and $5906 for a suite. The Goop at Sea tickets cost an extra $US750 ($1091) for passengers who book a suite.
with USA Today
Source: Read Full Article